How Playground Markings Help Your School
As a playground markings company, we recognise the part teachers and schools play in the development of children, and focus our products around bettering schools to make teachers' lives easier, as well as improve the development of pupils in and out of the classroom.
We do, of course have playground markings that help to encourage physical activity, that can be used in PE classes, as well as at playtime, but we also have playground markings that help children to learn English, maths, science, geography, and more! By making it interactive, schools make it easier for many pupils to engage with the curriculum, and learn more.
English
We have various A-Z markings, animal phonics, sight words, letter jumps, and more that will teach new words, the alphabet, languages, pronunciation, and spelling, making literacy and English classes fun and engaging, and allows children to develop their knowledge outside of the classroom!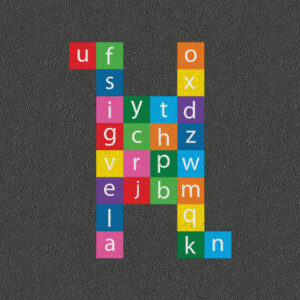 Maths & Science
We also gave plenty of maths markings to make learning interesting – with our markings, pupils can learn to tell the time, times tables, angles, fractions, coordinates, as well as addition, subtraction, division, and multiplication. We even have hopscotches that teach kids to count from 1-10 in various languages! Again, taking learning outside helps to make it more engaging and can help many children understand important concepts much faster. Science can also be made fun in the playground with our diagram markings, showing plant anatomy, human anatomy, and the solar system.
Geography
Our map markings make teaching the geography of everything from the local area, to the whole of the world easier, and we can customise markings with pinpoints that highlight the places that are important to pupils, such as the school's location, landmarks, or major cities. We even offer a map that lets pupils guess where major cities in the UK are located. Our world maps come in standard green or colour coded by continent!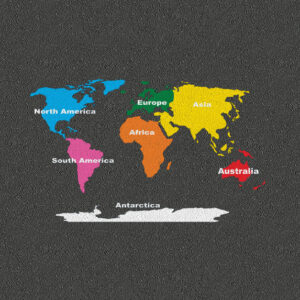 Benefits of Playground Markings
Overall, a good variety of markings on the playground will give children a break from the classroom, make learning difficult concepts easier, make subjects more fun, and mix up the day for both teachers and pupils. Markings also help children to learn more independently outside of classes, starting a journey of lifelong learning – which is important to instil at a young age!
Not Sure Where to Start?
If you'd like some playground markings for your school, but aren't sure what you want, we have package deals that make it easy for you by providing a range of markings, or you can reach out to us below to discuss your needs, and we can come up with a personalised playground plan for your school based on some of our most popular markings!