Support for Tree Planting Initiative
We're very proud to announce that we have recently started working with an organisation called more:trees to start a company tree planting initiative.
We all contribute to CO2 emissions and can all do more to reduce them. Planting trees is one of the best things anyone – whether they're an organisation or an individual – can do to make an impact and reduce their carbon footprint.
As a company, we decided that we should plant a tree for each electric vehicle charging symbol we sell to a customer. As this is an emerging market, we can foresee this as a having a large impact in the coming months and years, helping us to do our part for the environment.
Why Trees Are a Great Way to Mitigate CO2 Output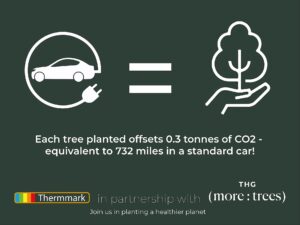 Planting trees is an effective way to absorb carbon from the atmosphere, helping all of us to sequester our carbon output.
A tree planting initiative also helps developing economies around the world, by providing agricultural work and maintenance, which gives them an opportunity to gain income and transferable skills at the same time as providing necessary plant life in their local area, helping to support local communities and individuals.
It also helps to protect animals by ameliorating deforestation, helping to protect wild animals and provide habitats, and provide a place for livestock to shelter from extreme weather.
Finally, trees are helpful for increasing rainfall and oxygen, which are necessary for human survival, especially in parts of the world where more:trees operates.
What We Love About more:trees
more:trees partners with local people all over the world to plant trees in communities that need it the most.
The benefits listed above apply here, but more:trees also give businesses and individuals in the developed world a chance to make a difference where it is needed the most. They make it simple for everyone to have a positive impact where they can, rewarding users with a virtual forest that enables them to see the positive impact they've had on the planet.
Small changes and actions, such as the automated system we're implementing to plant trees each time a product is purchased, add up to make an impact larger than the sum of its parts.
The initiative plants trees in far ranging places, including Madagascar, Kenya, and Haiti. Each project helps local people in different ways, but the whole world will feel the benefit of reduced CO2, and each tree will sequester 0.3t of CO2 over the course of its growth life!
For example, the Mida Creek project in Kenya helps to preserve and restore habitats and vital environmental features for several animals, including turtles, crabs, and birds, over 300 hectares. The Kijabe Forest project is making a difference by reversing deforestation, which causes flooding and unpredictable weather, which has an impact on the wildlife and the people relying on the forest for agriculture, food, and water.
For every purchase of an EV charging symbol – typically featured on car parks for use in EV charger car parking bays, helping to distinguish the difference between regular car parking spaces and the spaces reserved for electric vehicles to charge – we'll plant a tree through our partnership with more:trees. As the industry grows, our own 'virtual forest' will grow, and we're glad our customers get to be part of the experience, just by purchasing through us. Our ability to make custom-designed logos and markings means that we're often the go-to manufacturer for a wide range of car park marking companies, EV charging installers, and other firms in the industry, so each time you use a car charging space on a public car park, you may well be helping to protect the environment!