MONTGOMERY PRIMARY SCHOOL
BESPOKE DESIGNS TO FIT OUR CLIENT'S NEEDS
Challenge
Like many similar organisations, our Primary School client had a very specific budget, which we were more than happy to work within.
There were also a few restrictions due to the layout of the particular playground, so we had to play with lots of different configurations.
Our client also wanted to incorporate their school logo into the design, which can be challenging.

Solution
We work hard to make sure we meet our clients' budget, while still providing a stunning end result.
Because we create all of our own designs, we were able to alter the size of the court marking design to fit into their specific playground dimensions.
Similarly, our inhouse design team were able to adapt the client's logo to show how it would appear in thermoplastic, seeking approval before installation.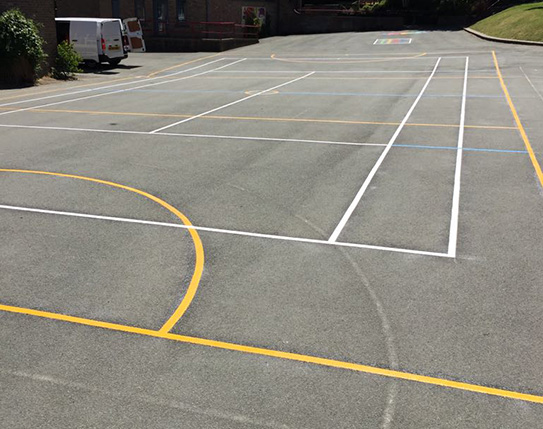 Outcome
We achieved the dream- a happy customer! We met all of the school's requirements, and delivered eye-catching and impactful designs, finished to a high, durable standard.
The markings also assist the teachers with their outdoor P.E. lessons, and the cursive marking were made to suit the curriculum.